GNM Programme
Philosophy
Modern nursing is a dynamic, therapeutic and educative process in meeting the health needs of the individuals, the family and the community. Nursing is one of the health professions which functions in conjunction with other health care agencies and maintain desirable standards of health.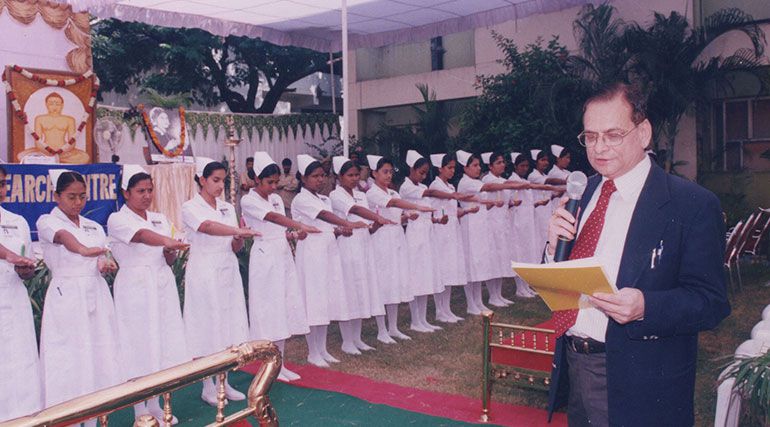 Indian Nursing Council believes in the concept of health as laid down by the W.H.O. i.e., Health is a state of complete physical, mental and social well-being and not merely the absence of disease or infirmity. The International Council of Nurses states that the unique function of the nurse is to assist the individual, sick or well, in the performance of those activities contributing to health or its recovery that he would perform unaided if he had the necessary strength, will or knowledge.
The Council recognizes that the nature of nursing is such that a substantial portion of learning of the students is acquired in the clinical field of practice.
The Council believes that it has a responsibility in helping the students to develop pride in their profession besides keeping them abreast with current knowledge and professional trends for a successful career ahead.
Aims
To prepare nurses with a sound educational program in nursing to enable them to function as efficient members of the health team, beginning with the competencies for first level positions in all kinds of health care setting.
To help nurses develop an ability to co-operate and co-ordinate with members of the health team in the prevention of disease, promotion of health and rehabilitation of the sick.
To serve as a base for further professional education and specialization in nursing.
To prepare nurses to keep pace with latest professional and technological developments and use these for providing nursing care services.
Objectives
The nurse on the completion of this course will be able to-
Demonstrate competency in providing in health care to individual, sick or well, using nursing process.
Assess the nursing need of clients from birth to death.
Plan and carry out appropriate action to meet nursing needs.
Provide effective nursing care for maintaining best possible level of health in all possible level.
Apply knowledge from the humanities, biological and behavioral sciences in functioning as a nurse.
Function effectively with members of the health team and community applying the knowledge of human relations and communication skills in her work.
Recognize the need for continuing education for professional development.
Assist in research activities.
Duration of the Course
The Diploma course in General Nursing and Midwifery shall be of three years duration.
There should be a preliminary period of 12 weeks. During this time the student will attend the wards for observation and supervised practice not exceeding 16 hours per exemption for ANM / LHV / Female Health Workers.
Six months exemption in training shall be during the third year ( in midwifery) to those who have undergone ANM training of 18 months or 2 years recognized by University.
LHV's with 2 1/2 years of training recognized by INC.
Syllabus
Same as prescribed for GNM trainees in all three years and Internship period.
Year-wise distribution of weeks, days and hours of the course
Maximum hours per week per student shall be 36 to 40 including class room instructions and clinical field practice.
Download Pospectus