ONGOING AND NEW PROJECTS AT BMMRC:
Role of hormones in breast cancer metastasis (ongoing)
Post translational Variations in microRNAs in oral cancers
Genetic and epidemiological investigations of Candidate genes involved in the etiology of Coronary Artery Disease.
GST1 and GSTM1 polymorphism in Type-II diabetes leading to diabetic nephropathy.
New proposals have been prepared – will be submitted to IEC of BMMRC this month.
Brief Biodata of Dr. Kaiser Jamil
Presently, Dr. Kaiser Jamil, a distinguished Scientist, is the Head of Genetics Department (HOD) – at BMMRC, Hyderabad, she is engaged in Various projects affecting human health like Cancer, Diabetes, and Cardiovascular disease with an aim to discover Biomarkers and Genetic Risk factors of these diseases. In this regard she has published almost 300 research papers and continuing to do so. Her work is published in various International and National Journals, which the International scientific community could see and has bestowed several awards and honour ( listed below).
She has guided 18 Research Scholars for PhD degree from JNTU,, Osmania University and Mysore University. All working from the genetics Department BMMRC plus 14 from previous Institute- IITC, a CSIR lab.
Awards and honors :
Most Recent Award
Received from The World Academy of Medical Sciences (WAMS) – July 2018, when she presented her work at Barcelona – Spain, she was conferred as Senior Executive Vice-president and Fellow of the World Academy of Medical Sciences in July 2018. (Certificate & Photo enclosed).
Another most recent award conferred to her was at an International Conference on "BIOMARKERS- from Research to Commercialization" at Bangalore as Excellent speaker Award – on 25th May, 2018.
She received 'SriVydia Siromani Award' from the Telangana Citizens Council for her work on Genomics in Breast Cancer –in 2017
She received 'Life Time Achievement Award' from the Governor of A.P. and TS. On the occasion of the International Conference on Cancer Research in 2016. (photo enclosed).
She was honoured with the Award of "Modern Medicare" for her work in Pharmacogenomics research in 2014. She was one of the top 20 Scientists of the country to be honored with this National Award for her work in cancer research in the area of Pharmacogenomics.
she was honored with the Lupin Visiting Fellowship Award by ICT- Mumbai- Jan2011
received Distinguished Scientist Award from Pentagram Research Centre in Feb 2012
She was honored as FELLOW of EMSI in July 2012.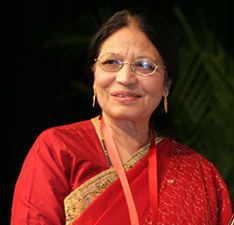 Membership in Professional Societies and Committees;
Society for Biological Chemists of India (SBCI) - LM
National Environmental Science Academy (NESA) - LM & Fellow
Indian Association of Pollution Chemists and Biologists (IAPCB) - LM & Fellow
Zoological Society of India (ZSI) - LM & Fellow
Electron Microscope Society of India (EMSI) – LM & Ex-Vice- President, and Fellow
Environmental Mutagenic Society of India (EMSI) – LM & Past Executive Member.
Indian Immunological Society - (IIMS) LM
Indian Society for Cell Biology - LM
Indian Women Scientist's Association (IWSA) - LM
Former – Task force Member – DBT- New Delhi (2001-2004)
President- Third World Organization of Women in Science (OWSD), Trieste Italy (2005 -2010).
Former- Member of New York Academy of Sciences - New York, USA (1997-99)
Editorial board member
Journal of Solid Tumors ( Canada)
Journal of Clinical Oncology (China)
Journal of Comparative Physiology and Endocrinology
Biology and Medicine (USA)
Asian Journal of Biological Sciences
Research Journal of Biotechnology (INDIA)
Editor – Hindawi Journal of Case Reports in Oncology
Staff working in your department along with qualifications and specialization.
Dr. Kaiser Jamil, HOD, Genetics Department, BMMRC
Dr. Kavita Kakarala, DST- Scientist (WOS-A)- will start her work as soon as funds are released – Sanction letter received
PhD. Research Scholars presently working :
Hajira Fatima M.Sc
Zamin Ahmad Dar, M.Sc, M.Phil.
Bhargavi Basvaraju, M.Sc
Recently submitted thesis :
Nasreen Begum- ( submitted), M.Sc
M. Sabeena, M.Sc.
Presently these are Project students, working :
Merlyn Saroj
Shri Nittu Satya Vardhan Rao
Akhila Dadvai